Mad-Dash Days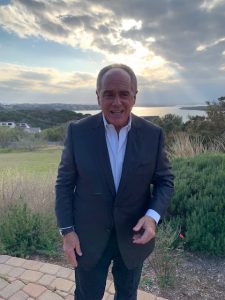 Dan Pearlman, one of the advertising world's icons, is still influencing clients and their audiences as CEO of Bob Wolf Partners/TPG, which helps Fortune 1000 firms navigate the tricky terrain in this incredibly transformative era of branding, social media, digital influencers, big data and decreasing attention spans.
By Chris Casacchia, California Business Journal.
November, 2019
Dan Pearlman has seen it all in the advertising industry, from the heady days of global expansion on Madison Avenue to the social media craze of the digital age. After earning his MBA at UCLA, he got his start in the 1970s at Young and Rubicam, one of the most iconic names in marketing communications. The New York-based firm was in fast growth mode at the time, expanding services, acquiring competitors and opening offices around the globe.
In the mid-1970s, Y&R changed the industry forever when it began marketing its new assets as "the Whole Egg," essentially building an integrated strategy using advertising, branding, research, public relations, sponsorship/event marketing, and sales promotion. Pearlman was on the task force that developed the concept, combining the aforementioned platforms along with skill sets such as engaging creative ideas, design, story-telling, strategic brand positioning, and careful measurement of results into one comprehensive approach. It proved its value by creating and managing effective, award-winning campaigns for P&G, Eastern Airlines (now Delta), Bristol-Meyers, Gallo and General Foods (now Mondelez).
"At all my agencies and other ventures, I always approached brand challenges and opportunities in an integrated fashion," says Pearlman, the cofounder and chief executive of Bob Wolf Partners/TPG, a management consulting firm that specializes in optimizing client-agency relationship, including conducting agency reviews, performance audits, and structuring/negotiating win-win client-agency compensation. The strategy has served his Marina Del Rey-based company well, attracting a client list that includes Boeing, Marriott, ADT, Hilton, Lending Tree, Credit One, Kia and Subway.